Stud 100 desensitizing spray for men was developed to help men prolong their erections and make their sexual encounters longer and more enjoyable. In fact 94% of males who have used this product reported a longer more pleasurable sexual experience. Stud 100 acts as a mild anaesthetic when applied on the penis. It quickly absorbs into the skin and goes to work. This interaction with the skin allows you to prolong your erection and foreplay. Each 7.16 fl.oz. (12g) can contains enough Stud 100 for 120 sprays.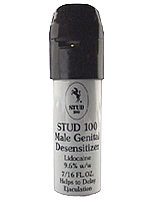 Yes, Stud 100 is safe to use during oral provided you use the minimum effective number of metered sprays and ensure that application is made to the penis in advance. Stud 100 is discreet, non-toxic and entirely safe for men and women.
Now with the introduction of Stud 100 you can bridge that gap, last longer in bed, improve your relationships, and rid yourself of the frustration associated with premature ejaculation.
Don't get cheated with fakes or imitations. This is the real Stud 100 with the DIN# from the real manufacturer!
*Buy 3 get 1 free offer!
Regular shipping is $8.95. Xpress shipping: $8.95 + $23.00= $31.95