Jamaican Stone AKA STONE, is a tree sap used to desensitize the head of the penis. This tree sap is very potent and has been used by Jamaican men for years to help them last longer and be harder in bed! STONE is the most widely recognized solution for premature ejaculation used in the Caribbean. There are many myths and stories to be told of the awesome sexual power STONE gives its user.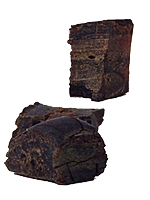 Stone is a very hot product but very hard to find outside the Caribbean. We think they're just trying to keep all the good stuff to themselves!
Don't let STONE's small, modest ingredients fool you, it's definitely a heavyweight! Stone has no odor and is safe to use! One order of Stone should typically last you 2 - 3 months and give you super staying power of up to 25 minutes!
The secret as to why Jamaicans are good lovers is now out!
Application is simple:
1. Apply to the penis
2. Wait 15 minutes before intercourse
3. Get to work!
Regular shipping is $8.95. Xpress shipping: $8.95 + $23.00= $31.95