Gladiator is our newest product! Why Gladiator? All the test result have proved to us that it prolongs sexual activity for up to 15 minutes. Gladiator is a cream not a spray. Gladiator is messaged into the shaft of the penis a few minutes before sexual intercourse. It quickly begins to work dampening the ultra sensitivity which cause a man to climax to quickly. Gladiator is white in color but rubs into the skin clear with no odor. It comes in a 1.5 oz. tube which should last for 15-20 applications. Gladiator is safe, non-toxic, ozone friendly and comes with a PD number.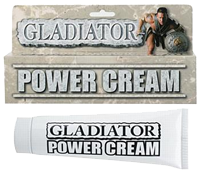 Application is simple: 1. apply to the penis 2. wait 15 - 25 minutes before intercourse 3.Work it like a rockstar!
Gladiator is a discreet answer for the problems of premature ejaculation. It will afford you the time it takes for your partner to climax. Both you and your partner will love this product. Keep and maintain a powerful erection now!
Regular shipping is $8.95. Xpress shipping: $8.95 + $23.00= $31.95