Kwangs Solution better known as China Brush, is a rich blend of Chinese herbs combined to create an amazingly potent premature ejaculation remedy. Men have been using this product in Asia for years to prolong their erections and increase sexual activity and vitality. Now we are proud to offer it to you. The active ingredient in Kwangs Solution is Korean Ginseng. The Korean Ginseng is safe to use and permeates a slight cinnamon scent. Ginseng is a supplement that many athletes use to boost their energy and endurance levels.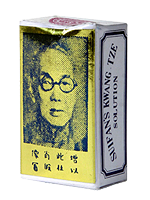 Kwangs Solution does not cause any numbing and is safe to use with your partner. Your partner will see a dramatic improvement in your sexual stamina.
The price for Kwangs solution is only $16.95 per bottle. 1 bottle of Kwangs lasts 15 applications. It's applied on the penis approximately 20 minutes before sexual intercourse. When applied, Kwangs solutions, will postpone ejaculation for up to 15-30 minutes allowing for a longer lasting sexual experience for you and your partner. Order Kwangs solution today! Make sure you get the real stuff here and not a cheap imitation.
*Buy 3 get 1 free offer!
Regular shipping is $8.95. Xpress shipping: $8.95 + $23.00= $31.95